Ferdinand urges Man Utd to get Haaland, Fernandes sends message to Scott
Manchester United have been urged to "give everything to get Erling Haaland", with Rio Ferdinand calling on the prolific Norwegian striker to be the man that "brings trophies back" to Old Trafford.
The Red Devils were in the hunt for a much sought-after signature during the winter transfer window of 2020, but saw a hot prospect snub them on his way to joining Borussia Dortmund.
Interest at Old Trafford has been retained, with Haaland maintaining remarkable standards in Germany, and the talented Leeds-born 20-year-old is now being linked with leading sides across Europe.
What has been said?
Ferdinand has told his YouTube channel on the scramble to land Haaland and the need for United to position themselves at the front of that queue: "You know what, they've just got to go and give everything to get Haaland, I don't care.
"I don't like to talk about players coming from other teams but this guy man, we can't afford to let this guy go anywhere else.
"His only destination is England, that's the only place he's going. If he goes anywhere else I'd be so surprised.
"Born here, born and bred. He obviously loves English football, his dad played here. I'm sure it's one of his dreams to come and play in England.
"Why not in the red shirt at Old Trafford? Be the guy that brings trophies back to Man United and brings the successful period back. Be that guy."
Why is Haaland so in demand?
Bruno Fernandes sends message to Scott McTominay after United's West Ham win
Bruno Fernandes was back on form as Manchester United beat West Ham at the weekend. Fernandes created five chances in the win, more than any player on the pitch.
One of these was his corner which set up United's winner. At first it looked like it may have been Scott McTominay's goal, but it was actually an own goal from Craig Dawson.
Fernandes sent a message to Scott McTominay after the game, expressing how most fans felt, writing, 'If it goes in we are all happy'.
This wasn't a moment for Fernandes or McTominay to be too worried about their own personal tallies for goals and assists, and they appreciated that.
United won 1-0 and the own goal was the critical moment. The team defended in determined fashion and saw out the clean sheet.
It was vital to get a win ahead of such an important week with cup games against AC Milan and Leicester. United are hoping to get key players back from injury.
One of these is Paul Pogba, who celebrated his 28th birthday on Monday. Fernandes was among many players to reach out to congratulate him.
What made Fernandes' message special was how he went out of his way to express how excited he is to hopefully get him back soon. Pogba has been out injured for more than a month now.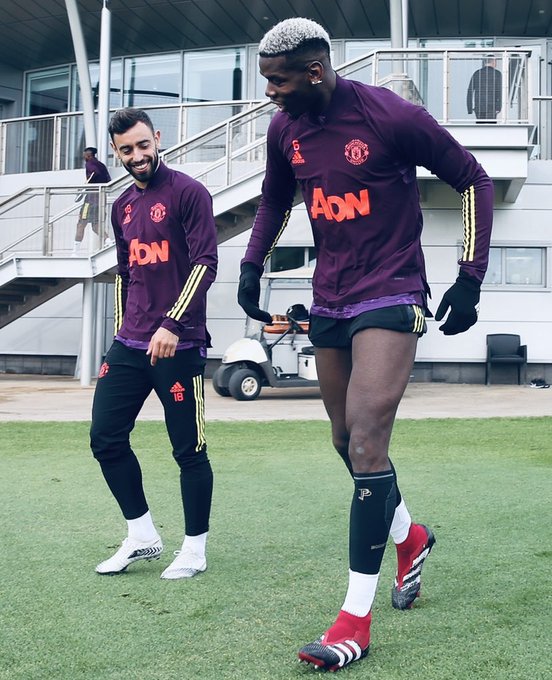 Pogba could travel with United to Italy for the showdown with AC Milan this week, Ole Gunnar Solskjaer told BBC Sport.
While unlikely he will start, Pogba could be on the bench and come on if needed, possibly returning to the line-up on Sunday against Leicester.
Getting Pogba onto the pitch with Fernandes eases the pressure on the Portuguese star and makes his task easier.
Their partnership is key to the team's success and Fernandes will no doubt be desperate for Pogba to stay beyond this season. A strong end to the campaign for the pair could help sway the Frenchman.