Arsenal star rejected lucrative offer as billionaire Aliko Dangote want to take over Arsenal
According to the latest edition of Ian McGarry and Duncan Castles' Transfer Window Podcast, Arsenal outcast Mesut Ozil rejected a lucrative move to Saudi Arabia due to his heritage and ties with Turkey.
Duncan Castles reports that the 31-year-old rejected a proposal from an unnamed SPL side due to the difficult 'diplomatic relations' between Turkey and Saudi Arabia.
This comes as a massive blow to Arsenal, with the Gunners failing in their attempts to mutually terminate Ozil's contract, with the playmaker firmly out of favour with the north London outfit.
Castles' co-host, Ian McGarry, added that Ozil turned down an extremely lucrative deal that was worth up to $20m per season.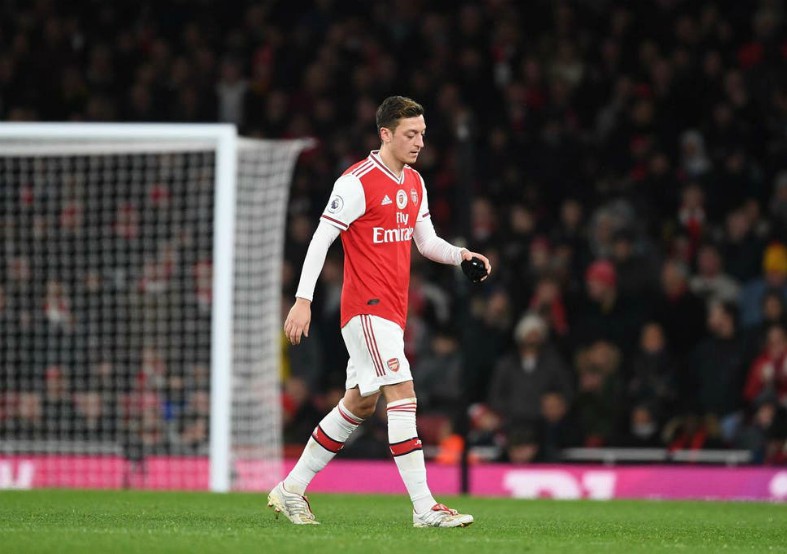 It's stressed that relations between the two nations have been an issue since journalist Jamal Khashoggi was assassinated by agents of the Saudi government in Istanbul.
McGarry reiterated that Ozil wouldn't consider such a transfer out of respect to his close relationship with Recep Erdogan, the Turkish president was the best man at the star's wedding.
Ozil is of Turkish descent but was born and raised in Germany, despite winning a World Cup for Joachim Low's side, the playmaker was cast away from the national team after sharing a picture with Erdogan.
The attacking midfielder has not made a single matchday squad for Mikel Arteta's side since the end of June – in a run that's now spanned 17 games. Ozil has also been left out of the Europa League squad.
Ozil has looked like a complete shadow of his former self since he became Arsenal's highest-paid player when he put to paper on a £350,000-a-week contract back in January 2018, as per BBC Sport.
The deal runs until next summer, with Castles highlighting that the club have now attempted to settle Ozil's contract after failing to offload the star.
Ozil's relationship with Arsenal seems completely broken at this point, the playmaker's only role right now is battling the club – like when he showed his class recently by offering to pay the full salary of mascot Gunnersaurus after the club's decision to relieve Jerry Quy of the role he's held for 27 years.
It's a shame to see that diplomatic relations are the prime reason behind the transfer snub, with Ozil clearly unwilling to go against his people despite having a massive offer on the table.
Liverpool and Man United proposals could affect Aliko Dangote's Arsenal takeover plans
Liverpool and Manchester United have proposed 'Project Big Picture' that would reduce the Premier League to 18 teams, and place the controlling power in the hands of the biggest clubs.
According to the Daily Telegraph, some of the proposals include scrapping the League Cup and Community Shield, plus 25 percent of the Premier League's annual revenue going to EFL Clubs, with £250m paid upfront to help them through the coronavirus crisis.
Also, there would be abolition of the one-club, one-vote principle, as well as ending the threshold of 14 votes to pass any decision or regulation change.
EFL chairman Rick Parry supports the plans, which were put together by Liverpool's American ownership Fenway Sports Group, with the backing of Manchester United.
The proposal would also allow sides to veto a new owner taking over a rival club.
This could affect billionaire Aliko Dangote, who has repeatedly stated his intentions to take over Arsenal in the future.
The Nigerian businessman, who is the richest man in Africa, said he would like to buy the Gunners but not for the time being due to work commitments.
Back in March, the owner of the Dangote Group said: "It is a team that yes I would like to buy someday, but what I keep saying is we have $20billion worth of projects and that's what I really want to concentrate on.
"I'm trying to finish building the company and then after we finish, maybe sometime in 2021 we can.
"I'm not buying Arsenal right now, I'm buying Arsenal when I finish all these projects, because I'm trying to take the company to the next level."